TIMBER QUEEN HD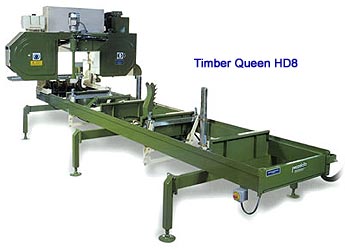 The Timber Queen HD-models are the most cost effective, fully hydraulic, narrow blade sawmills with the highest technical standard on the market.
Static versions are equipped with electric motors with sufficient power for cutting up logs with medium diameter.
The 700 and 800 mm band wheels, with 50 mm wide, sprung set Bi-METAL sawblades, ensure efficient cutting of logs up to a maximum 800 mm diameter. The sawblade of the HD5 runs over V-belts on the bandwheels, whilst the HD7 and HD8 runs over steel bandwheels and is guided by hard-metal blade guides.
A two cylinder petrol engine or 4 cylinder diesel engine provides sufficient power for professional on-site cutting of any type of logs. The machine is operated from the control panel. All functions of the headrig and log manipulation, like loggrips, logturner, as well as the taper adjuster, are hydraulic and come as standard. Optional equip­ment makes the cutting works easier.
Length extensions for up to 10.5 m cutting length are available to fit each machine. All machines are equipped with a two arm log loader and trailers with 25 km/h or 80 km/h axles are available on request.
PEZZOLATO narrow blade sawmills are not only ideal for agricultural and forestry users, but construction and lumber companies as well .